Spanning over 60 meters and weighing 40 tons, a crystal gem-studded sculpture featuring two flying dragons is the largest installation LASVIT has ever made. The installation fits into the overall design concept created by DSAA architects.
It took a few years of work for almost all of LASVIT's departments to make this project happen, and hundreds of employees from the Czech Republic worked together to bring it to a successful finish.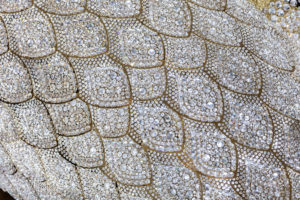 An astounding 13 thousand stainless steel scales fitted with crystals were made to cover the dragon's body, and LASVIT used over 2,5 million Swarovski crystals to decorate the scales.  Each is furthermore illuminated and can change colour, so the dragon can change from green to red almost instantly. Are you looking forward to seeing the dance of colours on the dragon's skin?