Each family has a different story to tell, and each residence is unique. Yet LASVIT's bespoke installations inspired by nature are a perfect fit for them all, conveying the warmth of home and adding a dash of timeless design.
Family memories written in a draught of flowers
There are moments in a family's life which you want to keep forever. The owners of the private residence in Esher, London let their imagination fly and LASVIT helped them follow their dreams and materialize those visions in the beauty of glass. The results are three unique glass sculptures which could never be so perfectly at home in any other place. The most eye-catching piece decorates the entrance hall.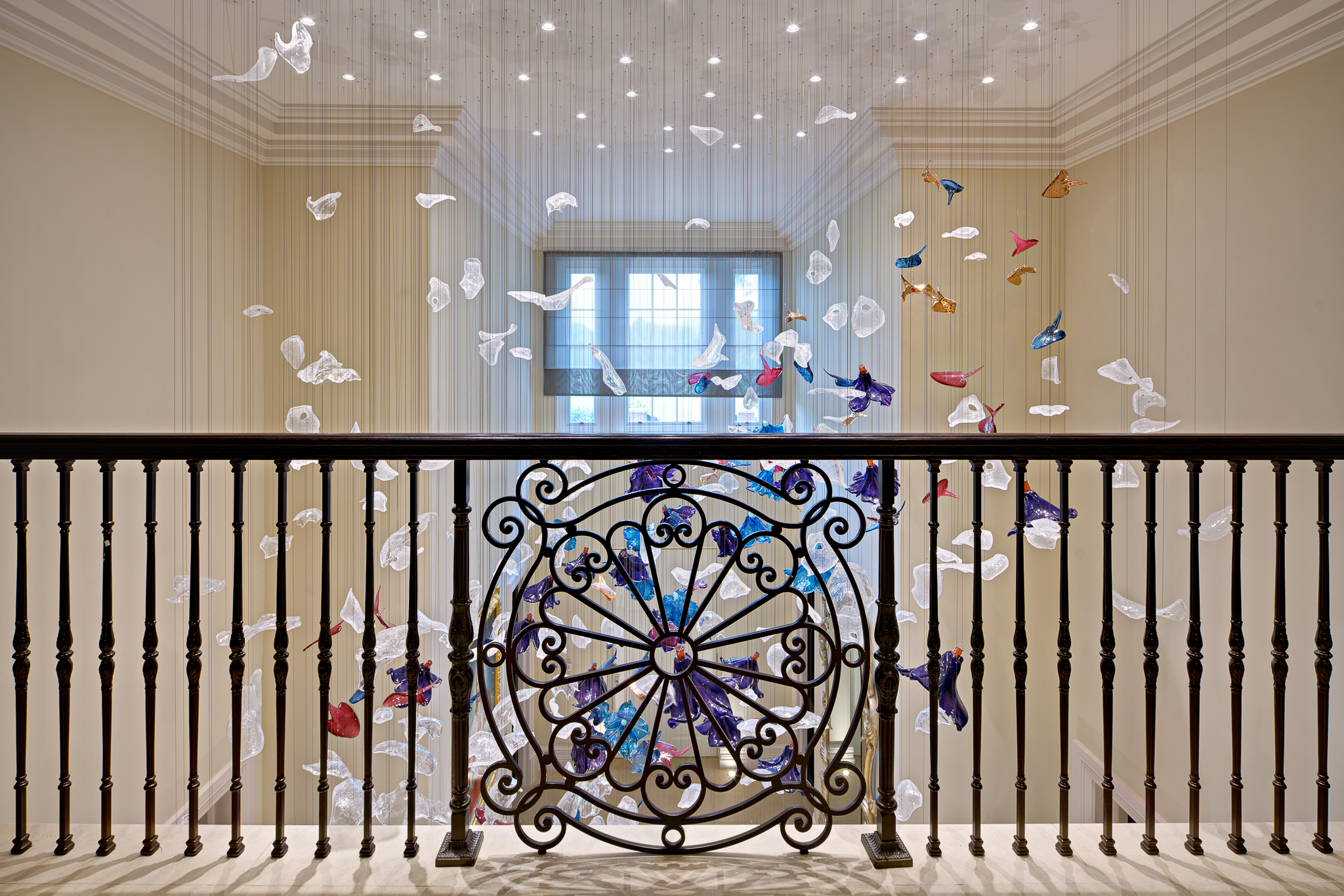 The flowers are like a colourful blast of music for the eyes, giving a warm welcome to every guest. A total of 300 components glow in five colours and shades. Each one is hand-blown and hand-shaped, so they are all unique originals. There are leaves flying in the air, speckled with three types of flowers, and a total of 169 organic shapes symbolizing water drops and morning dew.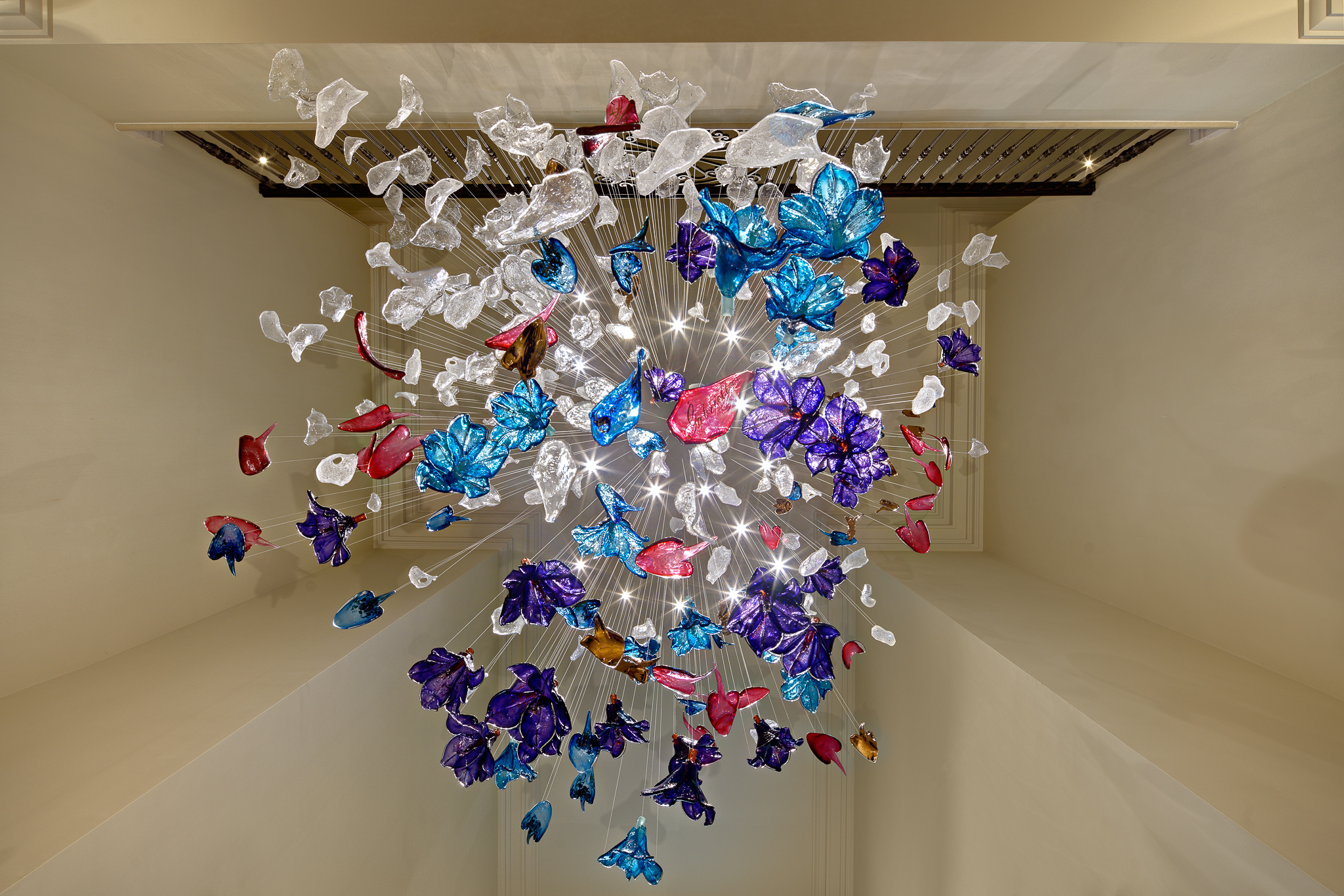 Golden calligraphy shines bright with names of the five children of the family on five glass leaves: blue leaves for the boys and rose ones for the girls.
Timeless stream
Like a deep and soothing blue ribbon, LASVIT's bespoke installation entwines the private residence on London's Aldford Street. It symbolizes movement in permanence, and repose in movement, making one feel as if they are walking on a flowing riverbed. In the shallow shade, in the gleaming surface, this piece lets you enjoy absolute tranquillity in the ceaseless, beautiful flow of life.
Each of the waves represents in itself a mere drop in the entire work of art. Yet without any of these drops, the entire stream wouldn't start to flow. Stream of light, stream of sky-blue water, stream of cash flowing through the city of London. In this simple and delightful installation, a great many symbolic meanings are to be looked for and found.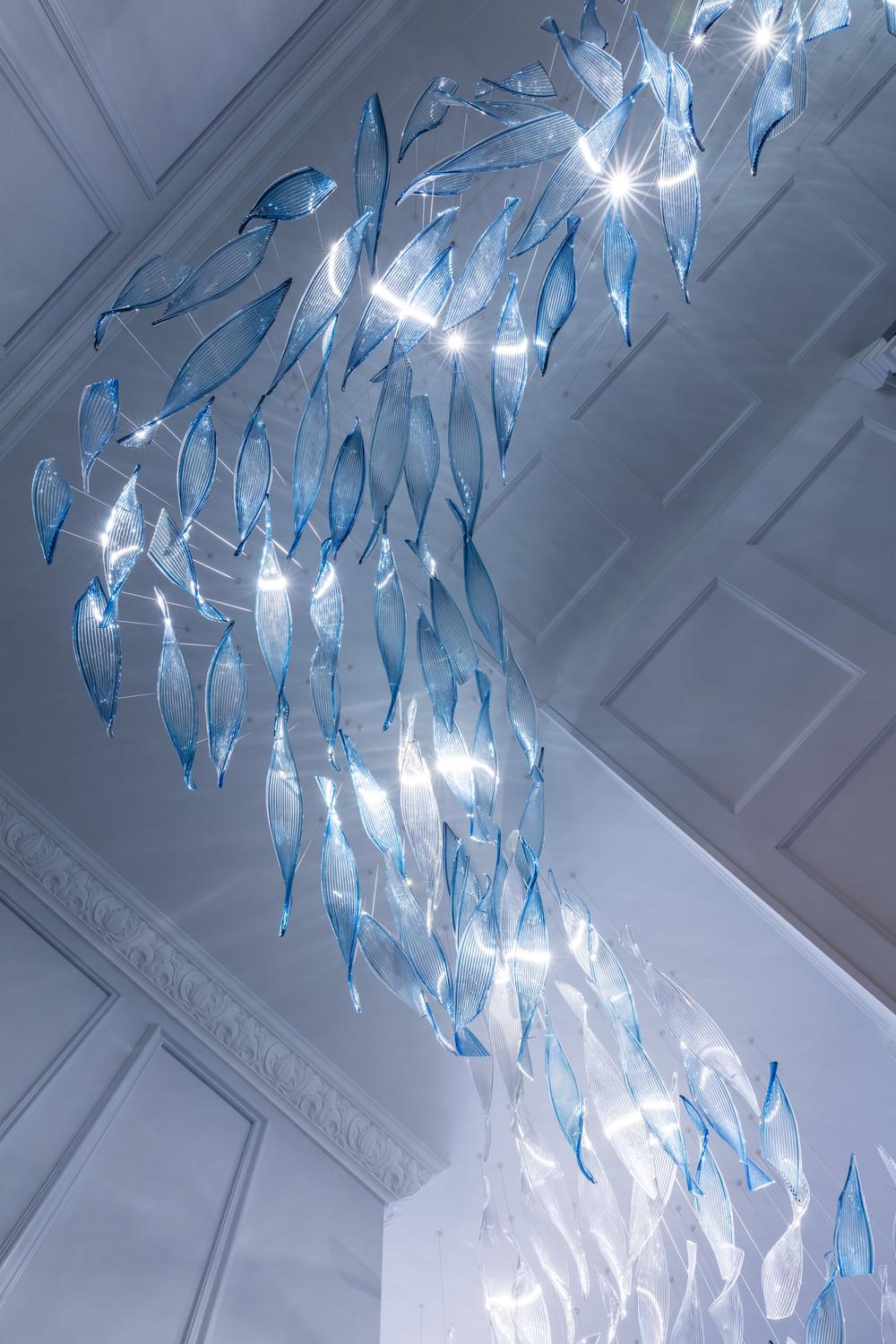 A glass forest shrouded in mystery
Montferrier Castle, located in the "Périgord Noir" in France, was built at the beginning of the 17th century as the property of two Périgordine aristocratic families. Its classical interiors, weaving touches of French and Chinese influences, have been recently highlighted by LASVIT's nature-inspired installation. This sensitivity has resulted in an ambiance that is as relevant and comfortable as it is elegant.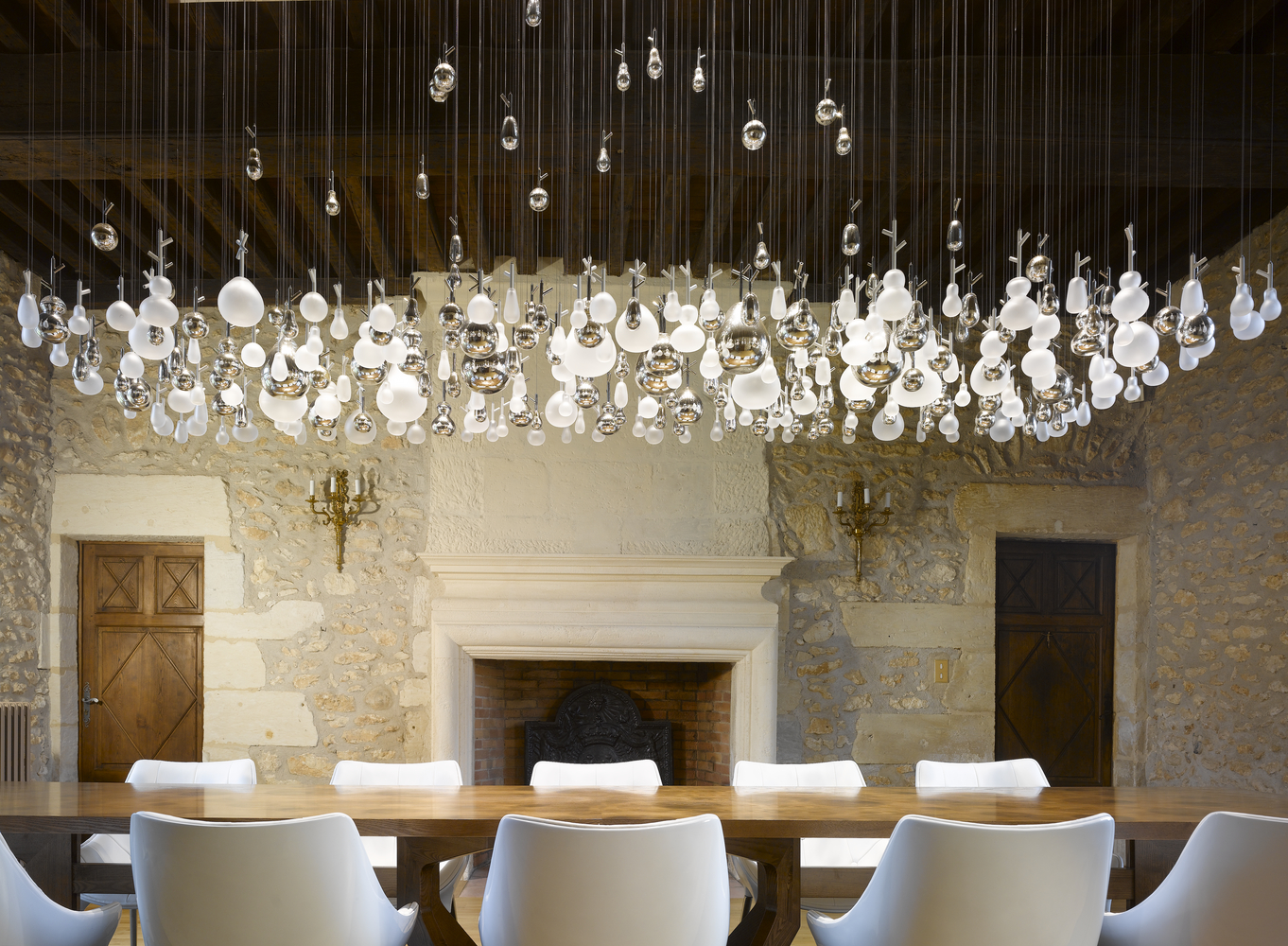 The concept alludes to a whimsical glass forest filled with abstract flowers and branches. Metal pipes were used by glassblowers, still attached to the glass objects that they were used to make. By turning the pipes into flowers and branches and the glass into a vase, LASVIT literally turned convention on its head, making flowers blooming in vases into vases blooming from flowers to represent the flower bulbs that draw nutrients from plants through photosynthesis and store new life.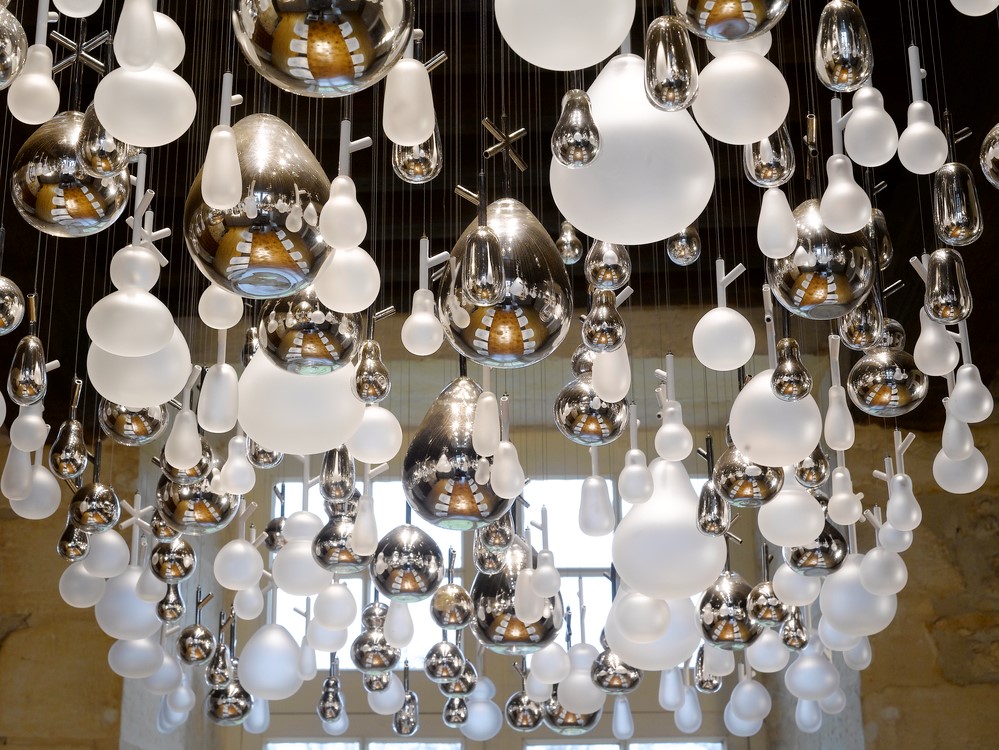 LASVIT has found a way to materialize the wonders of nature in tailor-made installations which represent not only the beauty of artisan glass, but also the family's history and their dreams for the future. The clients thus become co-creators of their own design lighting!
If you are ready to write your own story, please contact us here.
More inspiration is just a click away!
Follow #LasvitDesign and stay connected to the beauty of glass through our social media channels – Facebook, Instagram, Linkedin, Pinterest, Twitter, and WeChat (scan QR code below).