"The first thing, that happens when glassblowing, is a tiny glass bubble, little drop or an invisible molecule. Two bubbles symbolise partnership. Bunch of molecules looks like a cloud. In my point of view it is like a child playing with chestnuts. You are not able to create anything from one, but if you have more of them, it is endless fun. From glass drops you can create absolutely anything," Maxim enthusiastically describes.
"Also, it is a little game with perspectives, angles, and different points of view. Once it seems the installation is abstract, after two steps you perfectly see the meaning. In real life it works exactly like this. Sometimes you cannot solve the problem, but when you make a step back, the solution emerges as crystal clear," Maxim smiles.
Catch a Bubble!
For example, he used this technique of compilation bubbles in 2014 during the installation in Prague's Quadrio Shopping Center. The composition in the shape of a White Lion, Black Horse and White Shoe was made with over ten thousand black or opal hand-blown glass balls. Afterwards, he exploited similar approach in 2017 when he made The Diver installation for the Lotte World Tower skyscraper in Seoul, South Korea. The Diver consists of thousands of manually blown bubbles.
In 2018, Velčovský moved his method of modelling bubbles to the next level. In the Butterfly office building in Prague's Karlín neighbourhood, he made portraits of famous persons out of these bubble components. On the walls, he experimented with bubbles of various sizes and, with the help of computer algorithms, he introduced portraits which straddle the line between figurative composition and abstraction. While from close-up, the observer sees only a miasma of dots, these coalesce into the form of a portrait of a famous face when they look from farther away.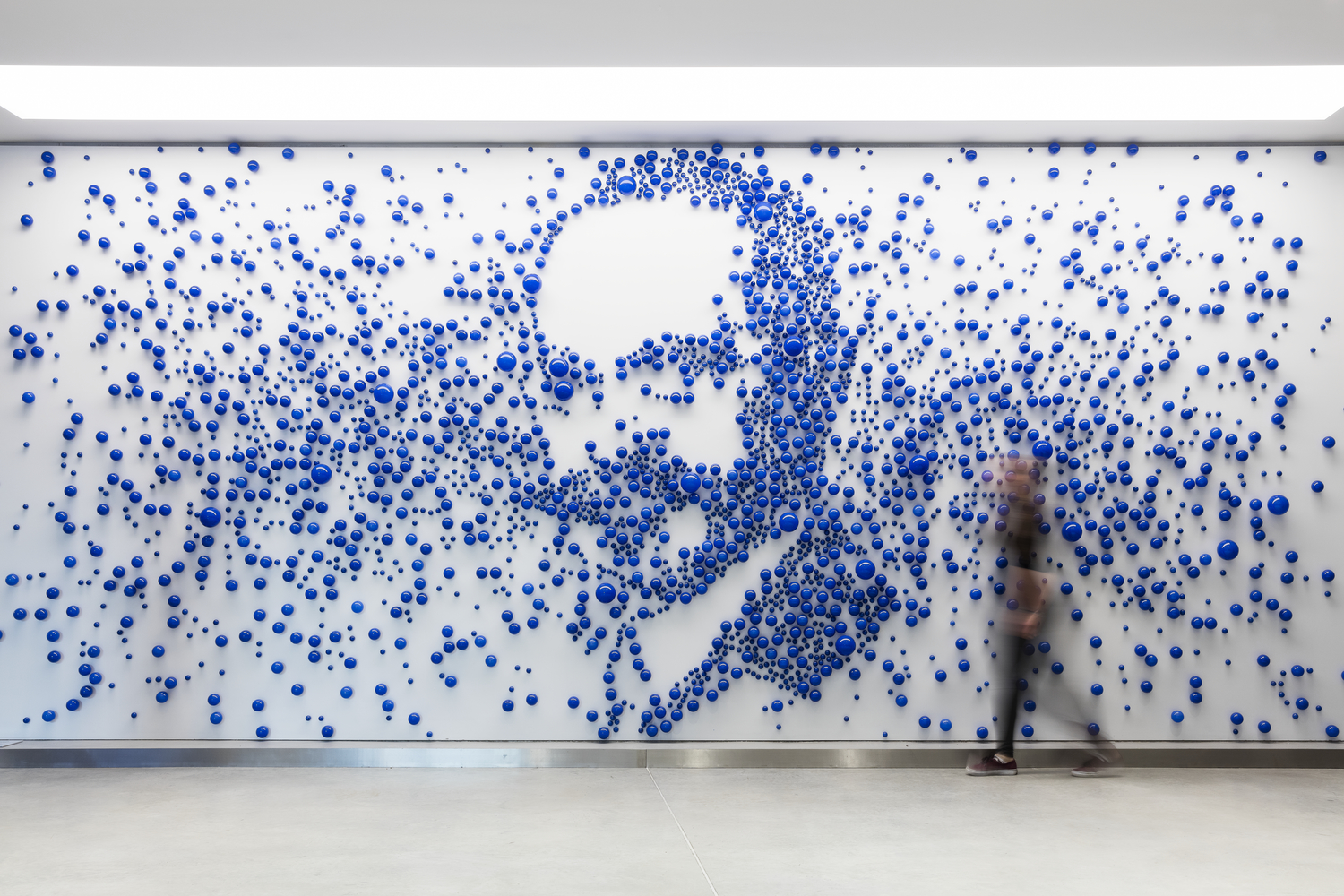 "It is the composition of complex images with the help of basic shapes. I am interested in the moment when an abstract constellation of individual elements comes together in the human brain to form a concrete face," Velčovský adds.
Lighting and steam machine
In Hong Kong he tried even higher level of this art. Local installation called K11 Musea connects glass drops with steaming and playing music. It is no wonder that this is Maxim's favourite body of work. "I love the idea of this piece in the shopping mall, where roof is the home for educational herbs garden. Each customer can bring not only goods from the shops, but even something more deeper and useful," Maxim carefully explains.
More inspiration is just a click away!
Follow #LasvitDesign and stay connected to the beauty of glass through our social media channels – Facebook, Instagram, Linkedin, Pinterest, Twitter, and WeChat (scan QR code below).