"I like working with the thought of restart and recycling. I love to give common things a new purpose as well as find and push their original limits," explains LASVIT's Art Director Maxim Velčovský.
This is perfectly obvious in the case of Maxim's rubber boots made of porcelain or his porcelain Czechia-shaped bowl. He simply enjoys shifting and elaborating even further the context of common stuff, always looking for new perspectives.
Naturally inspired by nature
There is just a single step from snow to ice, and inspiration from the winter season is noticeable in one of LASVIT's most popular lighting collections called Frozen from 2014. These lights look as if they were made of ice. "Ice is more solid, transparent, and it is not as fragile as snow," explains Maxim.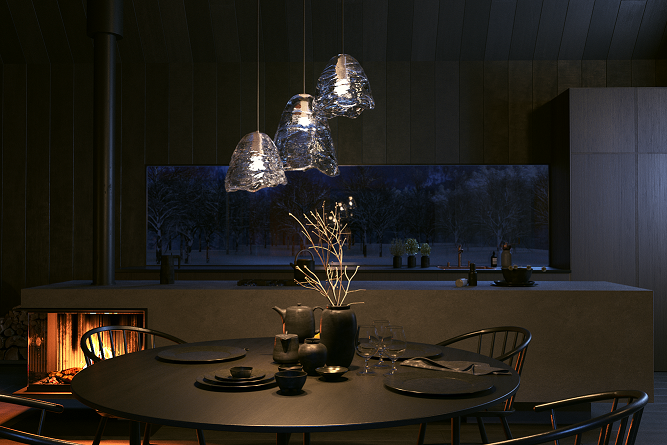 Furthermore, each piece of the Frozen collection is utterly unique, like a snowflake. "The production is very demanding, and I currently know of no other company which is able to create such pieces. Each of them is different, and the entire responsibility is shouldered by the guy who pours the molten glass out onto the form. We are not afraid to stand out, but this process is really ambitious and demanding on the craftsmen, so we try to work with the world's very finest glassmakers," Velčovský says about the creative process. He believes it is important to work with people who are able to see new possibilities in the glass.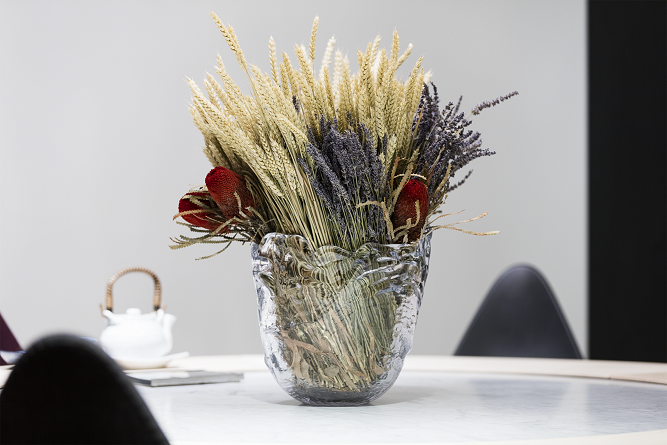 Follow the paths of magma
The valley where LASVIT's glassworks stand is surrounded by a picturesque mountain range. Near the glassworks, you can see the mountain panorama which was long ago formed by volcanic activity. Maxim thought about the process which created the glassmakers' homeland, the shapes of the hot magma and the surface of the hills which it left behind once the lava cooled down and hardened. Volcano is an imaginary hill which fits into the wider panorama of the central Bohemian mountain range.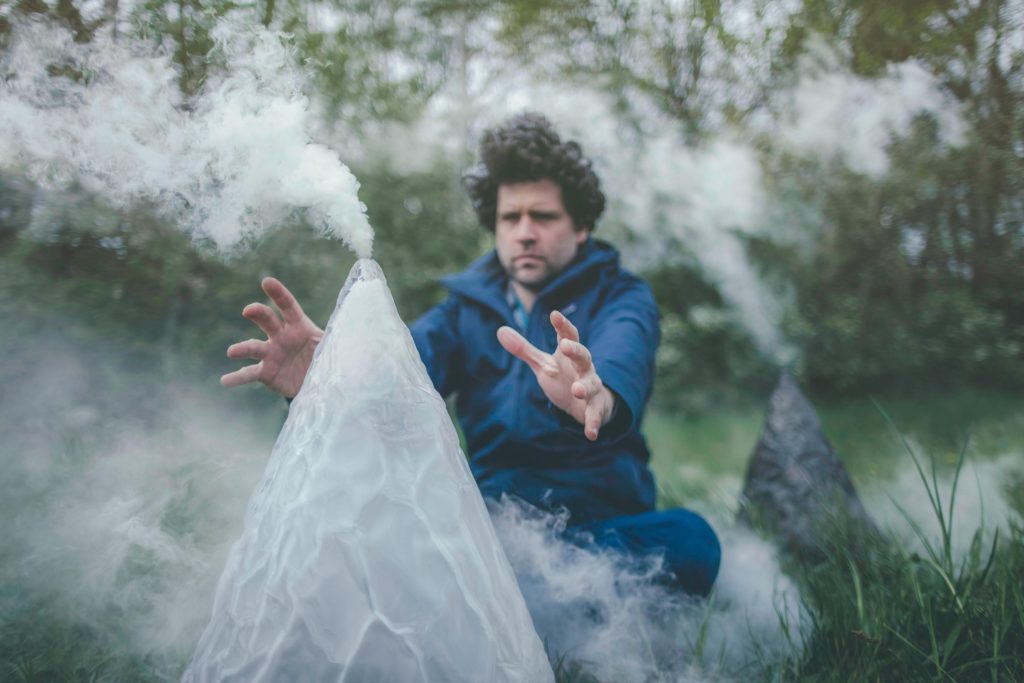 "I wanted to create a symbol of the volcano, a pyramid shaped by means of crumpling and deforming metal sheets, so that I might be able to create a specific surface structure which would diffract light. It is thus a little model volcano hailing from our volcanic lands which went extinct long ago," says LASVIT's Art Director Maxim Velčovský.
What's next?
Is there any alternative material which is somehow interesting for Maxim? "I am definitely interested in plastic and its overuse. I know it is a part of the current human condition, but I am really looking forward to overcoming this nonsense middle step that almost destroyed our planet, and start using bio-replacements instead. This kind of decomposable plastic could indeed be interesting to work with."
Maxim's work is confirmation that creativity and inspiration develop from one's surroundings.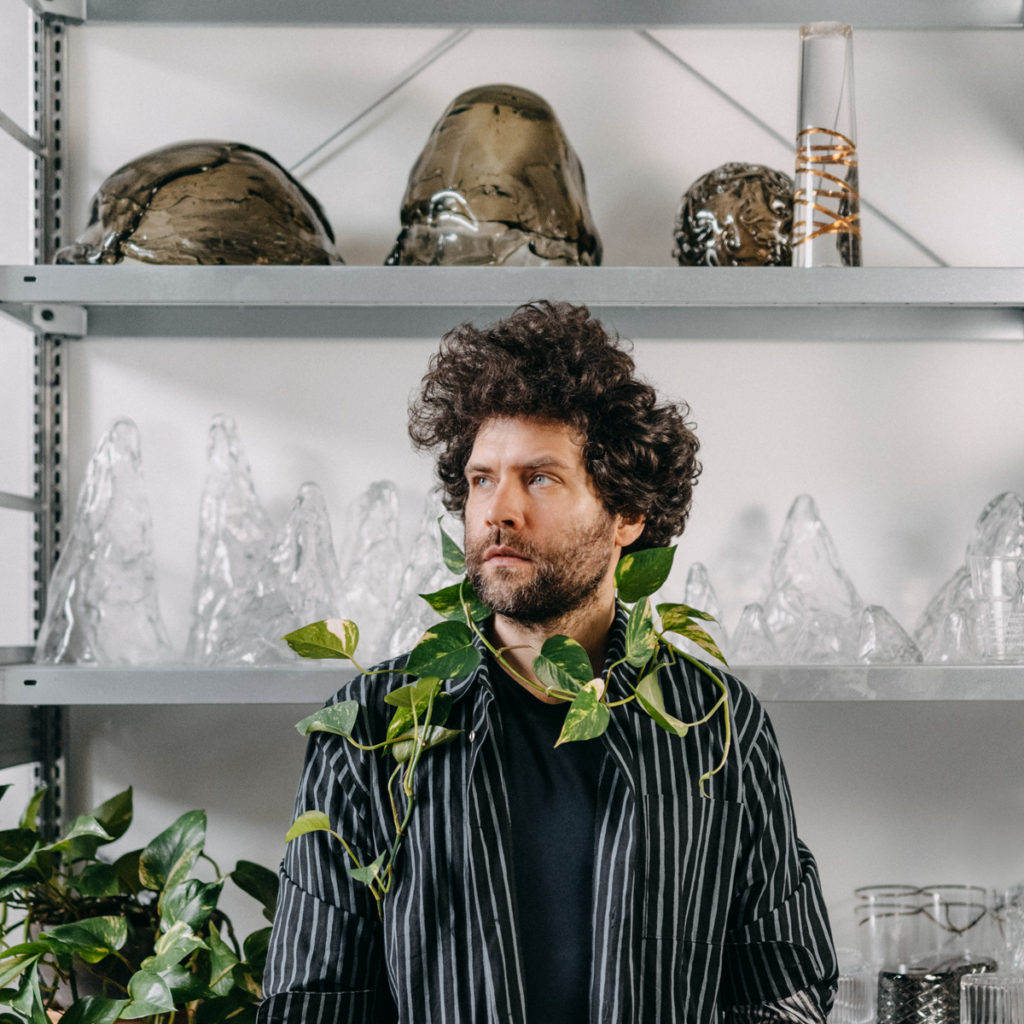 Best Creative Director of 2020
Renowned Czech designer Maxim Velčovský is one of the principal symbols of LASVIT's glass making art. We take the opportunity of the 10th anniversary of his work under the company's banner to remember Maxim's humble beginnings and his remarkable journey with LASVIT. Based on his achievements, Maxim has been named the winner of Interior Design's Best of Year Awards 2020 in the "Manufacturer: Creative Director" category.
More inspiration is just a click away!
Follow #LasvitDesign and stay connected to the beauty of glass through our social media channels – Facebook, Instagram, Linkedin, Pinterest, Twitter, and WeChat (scan QR code below).