For the very first time in the United States, LASVIT – the global pacesetter for creating daring space and light experiences – is showcasing its ingenious glass kinetic installation A:Live. With a set of simple movements, A:Live can create endlessly complex and seemingly living compositions. The piece will debut alongside South African artist Johnathan Schultz's newest golden, laser-cut sculpture, part of Schultz's Diamond Infinity series. Come see both artworks in action at the Johnathan Schultz Gallery in the heart of the Miami Design District, where they will be on display for the Art Week from November 30th into the new year.
Like living organisms
The whole world is in constant motion, as movement is an integral part of all life. Designed for hospitality spaces, private residences, and even luxury yachts, A:Live is inspired by movement, which powers each of its modular glass components. The result is an effect of ceaseless visual transformation. As viewers walk around the piece, Diamond Infinity's laser-cut acrylic diamond imprints, covered in 23K gold leaf, likewise seem to produce infinite combinations of its 3D facets. Both works invite the viewer to interact and discover new-fangled dimensions.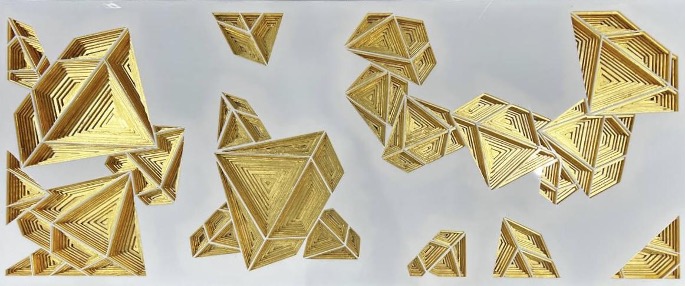 Teaming up creates synergies
"Life is never stagnant. On the contrary, it is in constant flux. As we move and change, so does the A:Live installation. With a set of simple movements, it creates seemingly living compositions. The installation's mobility illuminates new dimensions of glass and light, honoring LASVIT's long history of unparalleled glassmaking," says Stefan Mihailovič, member of the LASVIT Design Team and author of the A:Live design concept.
"This Diamond Infinity piece draws one into its gold layers which change before your eyes," says artist Johnathan Schultz. "Similar to the A:Live installation, the different segments glow in their own unique way as one changes angles and moves around the art. Its beauty is in the dimensions and depth coming from the inner layers, just as we have in ourselves."
LASVIT and Johnathan Schultz proudly blend art and innovation, embody luxury, honor their cultural roots, and encourage people to wonder at the constant motion of life. Don't let this opportunity slip away – please accept ourcordial invitation to this year's Miami Art Week where you too can witness LASVIT's debut presentation of New Dimensions on American soil!
Address: 4141 NE 2nd Ave
Suite 105
Miami, Florida 33137